How To Clean Your Garage Door

March 2, 2016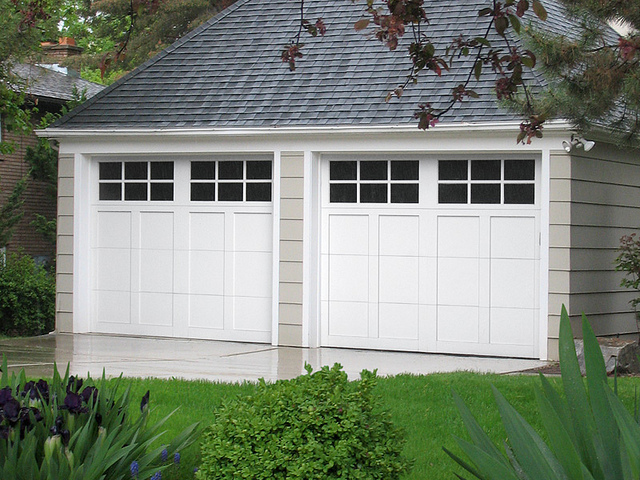 For most of us, the garage door is one of the most visible parts of our house from the curb. It also one of the first things you see when you get home. Keeping it shiny and clean really makes a big difference to the overall appearance of things. Luckily, it's pretty easy to clean.
In general, you should probably give the door a quick wash two or three times a year. All you'll need is a bucket, a hose, a sponge and some dishwashing or car wash soap. Just simply spraying it down and giving it a good scrub should do the trick. Or, for an even quicker method, you can just grab some spray cleaner and a old rag or paper towel and wipe it down like you would do with your kitchen counters. If you have rust or calcium build up, try a gentle tub and tile cleaner, but be careful to not damage the paint.
One good thing about regularly cleaning your garage door is it will give you the opportunity to do some light inspecting. Your door is a mechanical device, and will require some regular maintenance. So, just as with your car, catching problems early will save you from bigger problems later on. Look for anything bent or broken or making sounds that it shouldn't. Check the rubber weather seal along the bottom for any cracks or tears and replace if necessary.
This is also a good time to clean and lubricate the moving parts of your door. First wipe out the tracks of your door with a damp rag then the tracks, joints and rollers can be oiled with any teflon or silicon lubricant (do not use WD40).
Finally, to protect the surface of your garage in the future, your garage door can be waxed. Any car wax will do just fine. This will also bring back the luster your door may have lost over the years and help keep it clean.

And, as with anything related to your garage door, if you have any questions or concerns, we at Precision Door Seattle are always here to help!
Repair or Replace?
As the largest moving part in your home, the safe, secure, and efficient operation of your garage door is essential.
Repair
When your garage door opener stops working properly, it can often be repaired without too much problem and repair is typically a less expensive option than replacing your unit. We often recommend repair over replacement for this reason.
Replace
There are times when replacement is your best option:
If your opener is more than 15 years old we recommend replacement to improve the safe operation of your door. Note: Federal Regulations (UL 325) were updated in 1993 making garage door openers safer.
If we have safety concerns with a specific Brand or the manufacturer has been successfully sued for safety defects, we will not repair that model.
If there are no photo electric safety eyes present on your system, we will not be able to repair the unit.
If the brand no longer exists, parts will be unavailable & replacing your opener is usually the only option.
Warranty
At Precision Garage Door Service of Puget Sound, we take pride in our work and our reputation. That's why we back everything we do with an outstanding warranty.
Questions
Give us a call, we're happy to answer any of your questions.