Precision Garage Door Service & Repair
Monroe, WA
Read what people are saying in Monroe, Washington
7 reviews, Averaging 5 Stars!





425-230-0140
Here at Precision Garage Door of Seattle, we work hard to maintain a high standard of quality in our business - with our team, our products, and our service. We live where our customers live in the Monroe area and consider it a privilege to help make homes beautiful, secure, comfortable and convenient. Give us a call, and we'll take good care of you, too!





Date: 5/29/2020
Garage Door Opener Install
Monroe, WA
The scope of my job was to install a garage door opener which I had previously purchased on my own. My first attempt to have someone install my opener was dealing with a different and unresponsive company. Tired of being ignored, I called Precision Door Service. I talked to a live person (always a positive beginning experience) and was able to confirm a date and time right then. I was texted and emailed the confirmation date/time along with a phone number to call if I needed to change things. On the appointed day, my earlier appointment went faster than planned so I called to see if I could move up my appointment to an earlier time. Again, I talked to a real person and they confirmed their rep did have an earlier opening so they move up my appointment. Within about 30 minutes or so, the rep called and said his previous job was finished sooner than planned and that he was on his way. Once he (Nathan) arrived, he assessed the health of my garage door to verify that the spring was still good so that installing my new opener would be worthwhile and not prematurely burn out (I appreciated that). Then he got to work and finished within the 2 hours he stated the job would take at the start. He even reused some of the bracketing and wires from the previous opener to save me a few extra bucks. When he was done with the install and programming of everything, he spent a little bit of extra time educating me in some of the things to be aware of on my opener to make it safe (I had purchased it myself a few weeks ago and did not buy an opener through Precision). He also recommended a power conditioner to protect the opener. He also gave me an assessment of my door and pointed out how it was starting to fail and where to do maintenance to keep it working as long as possible. He also gave me a rough estimated cost for two different paths to go if and when I decided to have the garage door worked on. To conclude, I am very satisfied with the installation work and the customer service of Precision and will certainly contact them when it comes time to fix or replace my garage door.
- Michael in Monroe
Service Provided:
Garage Door Opener Install





Date: 4/21/2020
Broken Garage Door Spring Repair
Monroe, WA
Chasen was great! Explained the cost and benefits of all different options. Answered all my questions and very friendly. Great job!
- Jon Ebert
Service Provided:
Broken Garage Door Spring Repair
Product:
Garage Door





Date: 4/16/2020
Broken Garage Door Spring Repair
Monroe, WA
Great wealth of information and fast!Appreciate all the work.
- Andrea Edwards
Service Provided:
Broken Garage Door Spring Repair





Date: 4/7/2020
Garage Door Install
Monroe, WA
Your technician was outstanding! This was the second job he completed for us. I would highly recommend your company, as everyone from scheduling to the installer was professional and detail oriented. Thanks for making the process so easy.
- Rocky Lambert
Service Provided:
Garage Door Install
Product:
Garage Doors





Date: 12/5/2019
Broken Garage Door Spring Repair
Monroe, WA
I was very impressed with the high level of expertise and how quickly and professionally my problem was taken care of....messing with garage door springs is a very dangerous homeowner project and I was happy to let the Precision Door repairman take care of it. I was very happy with the repair and my PRECISION DOOR rep was super friendly and easy to work with. I rate this as a 10 out of 10.
- Chris Webber
Service Provided:
Broken Garage Door Spring Repair





Date: 11/11/2019
Broken Garage Door Spring Repair
Monroe, WA
Mike was fast, efficient, and thorough. I've already started recommending he and Precision to my neighbors. Thank you so much!
- Dave Kruger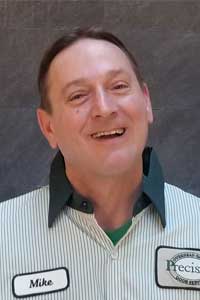 Service Provided:
Broken Garage Door Spring Repair
Product:
Springs





Date: 10/30/2019

Monroe, WA
Great job
- Michael Sfanos
Monroe Average Rating





7 Total Reviews
5 Stars

7 (100%)
4 Stars

0 (0%)
3 Stars

0 (0%)
2 Stars

0 (0%)
1 Stars

0 (0%)